Get The Best Red Hair Colours at GOLSON Salons in Milton Keynes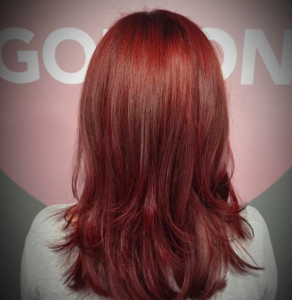 If there's one major hair colour trend to look out for autumn, it's red! More than ever, GOLSON clients are requesting shades of crimson, from subtle highlights to copper tones and berry hues. These auburn shades are daring, bright, and perfect for the autumnal season…
Copper Hair Colour
Bright copper hair colour is vivid and intense – like a new penny! It's an exciting choice for blondes who want to change their hair colour. Get ready to stand out in a crowd – this is a hair colour that gets noticed!
Auburn Hair Colour
A beautiful auburn shade is a great way to warm up a brunette hair colour. It's an eye-catching hair colour, and it's bound to catch the light in all the right ways. Auburn is a beautiful hair colour for someone that doesn't want a big change. Auburn hair colour is a subtle shade that will still make your hair 'pop'.
Fashionable Red Hair Colours
Vibrant red hair is a sure-fire way to grab attention. Choose a dramatic shade such as fire-engine red or a ruby red hair colour. These colours look fantastic when paired with a pale, porcelain complexion and with light blue or light green eyes.
Dark Red Hair Shades
Brighten up your dark hair with a striking dark red hair colour. Choose from deep cherry red hair, velvety red tones or plum hair colour. The possibilities are endless with dark red hair colour. The dark tones work well against pale complexions and with Halloween just around the corner, this vampish look is perfect for the spooky holiday!
Red Highlights or Balayage for Red Hair
Red highlights can be added to darker hair colours to add dimension. Add red highlights to natural red hair colour to brighten and enrich your locks. Ask your stylist to try balayage highlights for a modern, natural effect.
Book Your Hair Colour Appointment at GOLSON Salons in Milton Keynes
If you're unsure which red hair colour would work best for you, book in for a consultation with the hair colour experts in Milton Keynes. Call our friendly team or book online using our quick and easy widget.